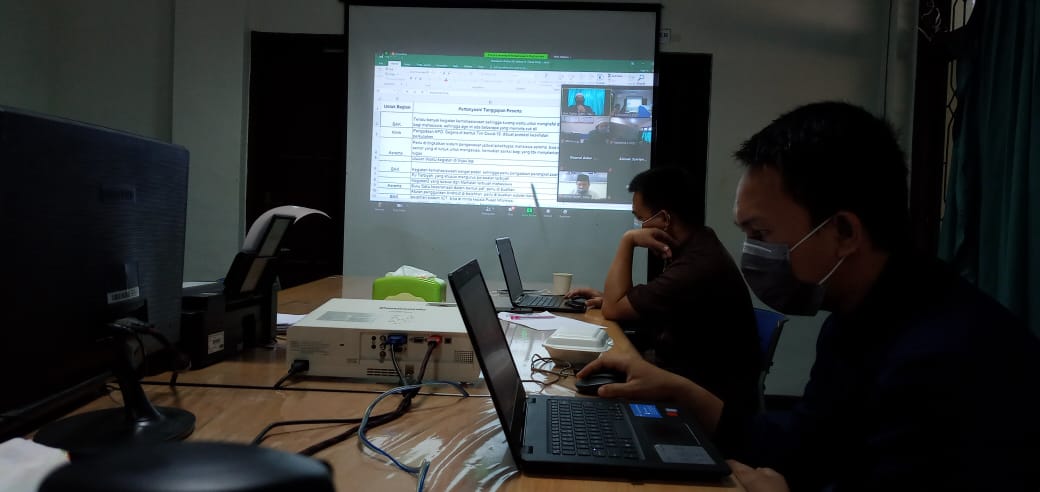 (STIBA.ac.id) Makassar – STIBA Makassar held the XXII Working Meeting via Zoom on Tuesday-Friday (07-10 / 07/2020). This event was attended by all departments and work units of STIBA Makassar. In order to implement the health protocol, the participants were placed in separate rooms.
The deliberation began with the delivery of a discourse from the Senate Chairman of the STIBA Makassar, Ustadz Muhammad Yusran Anshar. In his address, he invited the managers to increase their gratitude to Allah. There are many blessings that God has given by being the manager of STIBA, including favors for Islamic Brotherhood, togetherness in the struggle at the STIBA Makassar Campus.
Each manager was asked to understand their respective positions. The most important thing is not just performing them, but most importantly whether the manager has done the best for the position that has been destined for him.
"In this working meeting, let's evaluate ourselves to give our best in the future. Make personal notes on what we have done and what we plan to do in the future," said Ustadz Yusran.
Managers were also reminded to respect each other's performance. Because joint work does not refer to a stand-alone unit; they need others. Rather, they need to reflect on each other, and correcting each other's wrong doings.
"Yet, we need to appreciate what our brother has done so far and to keep in our mind of all that he has done in advancing the campus to the future. Thanking people is the same as thanking the God. There should not be anyone who felt small just because of their role," said Ustaz Yusran in a speech delivered from his residence.
The chairman of STIBA Makassar, Ustadz Ahmad Hanafi, started the course of the XXII Working Meeting by conveying his general views regarding the performance of all departments and work units under his coordination. He shared the achievements in the Academic Field, General Affairs, Student Affairs and Cooperation departments. Likewise, he also touched the Center for Research and Community Service (P3M), Center for Quality Assurance (P2M), P3B, and others.
After going on for four days, the XXII Working Meeting was closed on Friday afternoon after the discussion of recommendation session.
Results of the XXII Working Meeting will become a reference for implementing work programs in the Academic Year of 1441-1442 H / 2020-2021 M.
Translated by Muh. Arham
Editor: Suryadin Abdillah